Delicious Handcrafted Soufflé Pancakes
Our Story
Fuwa Fuwa, meaning "fluffy fluffy" is North America's largest soufflé pancake and dessert cafe. Each pancake begins with egg whites whipped to soft peaks, essential to their finally airy quality, and is then cooked very slowly at low temperature. Tasting like a delicate balance between a soufflé and a traditional pancake, soufflé pancakes are soft, bouncy, and light.
Welcome to FUWA FUWA
Celebrating EVERY MOMENT, Every Day with FUWA FUWA
Why limit happiness to just one part of the day? At Fuwa Fuwa, our all-day menu ensures that you can indulge whenever you please. Be it breakfast, lunch, dinner, or anything in between, our carefully curated all-day menu is designed to elevate your experience, whether you're starting your morning with purpose or winding down in the evening. We deliver happiness, at any time you choose.
All-Day Menu
Fuwa Fuwa is more than just a pancake cafe.  We offer a variety of delectables that include desserts, hot drinks and ice cream. Drop by one of our cafes to see for yourself.
Celebrating the season of food for the whole year. Enjoy the taste that differs​.
At Fuwa Fuwa, we bring the flavors of each season to your table, all year round. From our summer slushes and mango pancakes to our innovative savory croffles, we offer a diverse menu that's always fresh and exciting. And for coffee enthusiasts, our expertly brewed "THE FLUFFY BLEND" are available from morning to night, making every moment a little more special.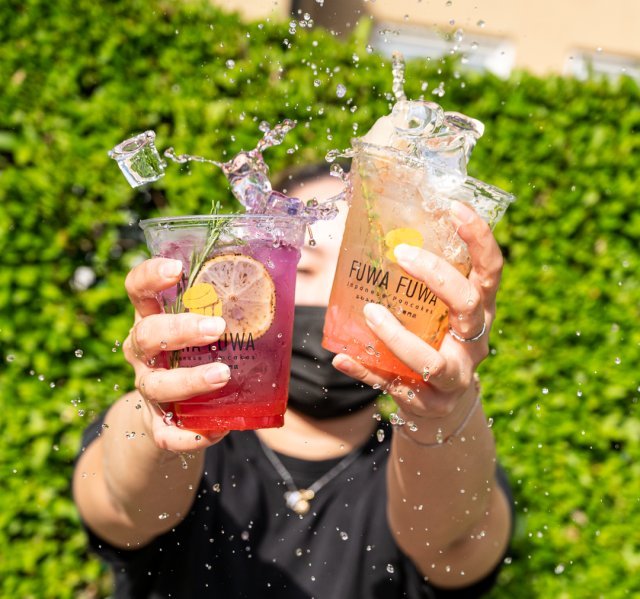 We make the mornings better. We make the nights longer. Coffee is always a good idea. Great ideas come from great coffee.